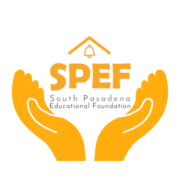 The South Pasadena Educational Foundation has announced award winners for the 2020-2021 round of Teacher Direct Grants. Awards of up to $4,500 were available for creative and innovative classroom projects.  Applicants applied at the beginning of the school year and SPEF committee members evaluated each proposal using several metrics.
Student Academic Achievement
a. Motivates students and inspires them to achieve academic excellence.
b. Engages students as active participants in the learning process.
c. Encourages specific improvements in students' skills and attitudes.
d. Supports the students' desire to learn, be creative and activates the imagination.
e. Objectives are well-defined and measurable.
f. Aligns with and bolsters SPUSD objectives and goals.
Scope, Innovation, and Duplication
a. Adapts easily for use by other teachers and/or schools.
b. Contributes toward the knowledge and practice of effective instructional strategies.
c. Is innovative in its ability to teach and to achieve SPUSD's curriculum goals.
Materials/Equipment
a. Materials or equipment directly support the proposed activities and are relevant and appropriate.
A total of 21 applications were submitted requesting $40,000 in funding.  Each grant was accepted and every student in TK-12 will be impacted by one or more of these grants.