Google Expedition Virtual Reality – Parti Gras Paddle Raise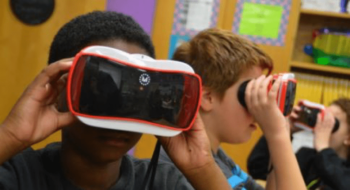 Gone are the old days of just looking at boring pictures in a book – that is so 1980's!  What better way to learn about the Egyptian pyramids, the Great Barrier Reef or the Taj Mahal than actually going there?  Google Expeditions takes our tech-savvy students of the 21st century beyond mere video clips to an immersive curricular experience.  The teacher acts as a guide and leads explorers using 360-degree and interactive 3D images while students wear special virtual reality goggles, allowing the students to be actively engaged in their learning rather than passively reading from a textbook or following a PowerPoint presentation.
For the past two years, Google Expeditions has been used in classrooms across the country to extend learning and help students experience the world in new ways. They can take over 700 virtual field trips all over the world, gain exposure to new career paths and learn about social impact initiatives happening around the globe.  Science teachers can bring cells to life in Inside A Cell, while counselors can help students visit colleges or go on career expeditions by walking in the footsteps of those that do the job.  Students can also be a part of history by walking the Selma to Montgomery National Historic Trail or be among those fighting for a woman's right to vote in the Women's Suffrage in the United States expedition.
Immersion virtual reality is the next frontier in education, and thanks to the generous donations made during the 2018 Parti Gras Paddle, SPEF was able to purchase virtual reality goggles for the students of South Pasadena!
https://spef4kids.org/wp-content/uploads/2018PartiGras_IMG_1222-scaled.jpg
1707
2560
Stacey Petersen
https://spef4kids.org/wp-content/uploads/SPEF-LOGO-HEADER-TEMP.png
Stacey Petersen
2018-11-08 23:08:04
2018-11-30 06:29:09
Google Expedition Virtual Reality – Parti Gras Paddle Raise